You need this pack to download with rapidshare.com!
Rapidshare Premium Pack 2009 version 1 is avaible
FTGPS Details...
Easy one file Install system
Pre-Approve gallery controls
#
Check for Java
#
Objects
#
Popup
#
Refresh
#
iFrames
#
Setup to 3 years (2007) of approved galleries
#
Scan specific galleries for popup, refresh, java etc
#
Edit gallery details
#
Delete galleries (in batch or single mode)
#
Batch approve galleries
#
Advanced domain search
#
Ban IP, domain, email fom submissions
Free Hosted Galleries
#
Import of FHG's from freehostedgalleries.com
#
Importing text description, up to 10,000 galleries at one time
#
Importing text thumb FHG's from special sponsors
TGP Settings
#
Submit form ON/OFF
#
Automaticly approve galleries on submission
#
Automaticly confirm galleries on submission
Templates
#
Database templates
#
File templates for content on index page
Multiple admin accounts
Blacklist page
FTGPS stands for Free Thumb Gallery Post Script.
TGP's have been used for a number of years to get adult traffic to sponsors. Webmasters submit their galleries to tons of TGP's in order to get traffic to their sponsors.
The gallerythe webmaster submits give the surfer a free preview of movies or pictures and links them to the sponsor of the gallery.
FTGPS work along the same line as other tgp's however it's designed more for free hosted galleries. Free hosted galleries are galleries that your sponsor gives to you, the code has your ID on them so any sales made from those galleries goes into your pocket. Ask yourself, why give other webmasters sales when there is over 100,000 free hosted galleries out their with your ID to use.
FTGPS is a very easy to use TGP script even for a beginner in the adult industry. It has most functions other tgp scripts have and some new ones as well. You can approve and pre-date galleries up to 3 years (2007). The templates are in a seperate directory so if you want to run multiple tgp's you can with different designs while still using the same mysql database.
Galleries can be in the form on text descriptions or thumbnail links.
Submitters can submit galleries to your tgp or you can disable the function to submit galleries.
Currently we cater for these sponsors to have thumbnail links:
- NastyDollars.com
- DirtyDough.com
- Solarcash.com
- SunnyDollars.com
This file FHG.php in the zipped file will be updated as sponsors ask for there program to be added. So if your a sponsors and have FHG with thumbnail (hotlinkable) FHG's then please contact us.
So whats the catch? Why is this script free?
It's free to download and use on as many domains as you wish but 2% of the clicks to galleries will come to us. We provide a surfer friendly page without any popups, exits etc.
Let go over this. If you had 10,000 clicks to galleries from your TGP in 1 day, we would get 200 clicks of that, it's not much to bitch about for a free script.
"Submit-A-Link" Style Script linksubmit.zip
"Suggest My Site" Script suggest.zip
"Users Online" Script #1 usersonline.zip
"Users Online" Script #2 cjusersonline.zip
Advanced Guestbook Script guestbook.zip
Affiliate Banner Rotation Script adrotator.zip
Affiliate Linkmaster affiliatemask.zip
Affiliate Program (Advanced Version) postaffiliate.zip
Affiliate Program (Basic Version) phpaffiliate.zip
Another PHP Web FTP Program webftp.zip
Auction Website phpauction.zip
Auto Hits Script scau.zip
Automated Form Submission Prevention human.zip
Bookmarks/Favorites Script bookmarks.zip
Build a Webring webring.zip
ClickBank "Thank You" Page Protector Script cbscript.zip
Client Invoicing Script myinvoice.zip
Document Management System sdms.zip
Easy Administration Program easyadmin.zip
EasyStream easystream.zip
Electronic Reminder Script ereminder.zip
Expired Domain Finder wgs-expire.zip
FAQ Generator whatdafaq.zip
FAQ Manager faqmanager.zip
FFA Links Page Script ffalinks.zip
File Transfer Script net2ftp.zip
Hot Mailing List Script newsletter.zip
ICQ Pager Script pager.zip
Image to ASCII Generator img2ascii.zip
Image Watermarking Script watermark.zip
Instant Photo Gallery Script instantgallery.zip
Instant Site Maker instantsm.zip
Link Listing Script links.zip
Links Exchange Website conservatory.zip
Live Help Script livehelp.zip
MySQL Database Backup Perl Script backupscript.zip
News Publishing Script topstory.zip
Office Intranet Suite intranet.zip
Online Classifieds Script classifieds.zip
Online MultiPlayer Chess webchess.zip
osCommerce PHP Shopping Cart oscommerce.zip
PassGen passgen.zip
PaymentPal paymentpal.zip
Perpetual Traffic Generator trafficgenerator.zip
PHP & MySQL Content Management System contentm.zip
PHP Form To Email Script SECURE! emailer.zip
PHP Message Boards Script messageboard.zip
PHP-based eCard Script/Website gcards.zip
POP-UP Creator popup.zip
Powerful Portal with Content Management phpx.zip
Secure Authentication Script authentication.zip
Simple Yet Powerful Download Counter Script hitcounter.zip
Sophisticated PHP Ecommerce Site xtcommerce.zip
Sports League, Fixture and Prediction Management Script phpfootball.zip
Toplist Website Manager #1 toplist.zip
Toplist Website Manager #2 topsites.zip
USENET News Client newsgroup.zip
Visitor Logging Script tollbooth.zip
Web Event Calendar calendar.zip
Web Portal System geeklog.zip
Web-Based Address Book Script wa-boo.zip
Web-based Image Management System photoseek.zip
Web-based POP Email Client webmail.zip
Website Stats Business trafficgopher.zip
Whois Lookup whois.zip
Yahoo Style Link Directory/Search Engine sslinks.zip
Category: ---
800 Ready to use javascript
100 Flash clocks
Category: ---
GameScript is a fully featured online gaming content managment system built completely with revenue in mind.
Here are a few features
* Add/Remove games from an online admin panel
* Game plays are counted by game and sitewide
* Number of Users Online
* "Tokens" system
* Game Ratings
* Game Comments
* Advanced Query Caching
* Easy to customize
Demo:
http://geomoov.com
info:
http://www.dzoic.com/
download:
http://www.massmirror.com/e29544320af07917fadd1b0ad26d2982.html
password:
www.globaltechweb.net
support:
www.globaltechweb.net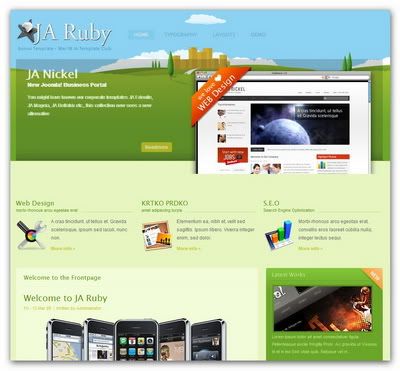 Joomla Template Joomlart JA Ruby | 8 MB