Over 5000 Free Internet TV Channels Plus Video Search
Tap into the amazingly popular Internet TV on PC Market. Streaming TV websites are Hot stuff right now and are searched for literally thousands of times every minute. Now is your chance to own the very best internet tv script around with TVonPCscript . You can base your entire website around this script to attract an avalanche of visitors or you can add it as a subpage to an existing site.
TVonPC Script has over 1000 free internet TV Streams in its database plus a video search feature showing thousands more videos and taking feeds from all the major video sites such as youtube, Tveoh, Metacfe, Daily motion and many more! The script uses minimal bandwidth as the streams are all hosted elsewhere and its all totally legal. It has amazing stickyness and will have your visitors coming back time after time to view the Huge range of channels including a jawdropping 105 different countries covered for worldwide coverage.
Demo:
www.tv.bfire.info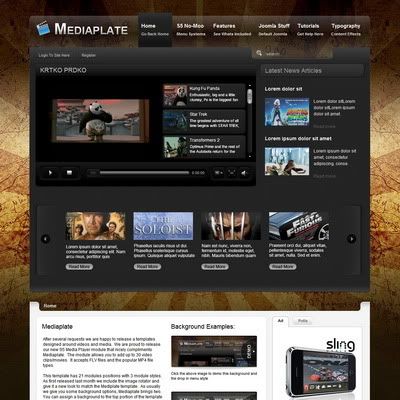 Joomla Template Shape5 Mediaplate | 18.6 MB
After several requests we are happy to release a templates designed around videos and media. We are proud to release our new S5 Media Player module that nicely compliments Mediaplate. The module allows you to add up to 30 video clips/movies. It accepts FLV files and the popular MP4 file types.
This template has 21 modules positions with 3 module styles. As first released last month we include the image rotator and give it a new look to match the Mediplate template. As usually we give you some background options, Mediaplate brings two. You can assign a background to the top portion of the template and to the bottom portion. The S5 Tab show is also included in this template release as seen in the City Portal template. Be sure to browse around the demo of this template to see all the features included!