A Pup Called Trouble by Bobbie Pyron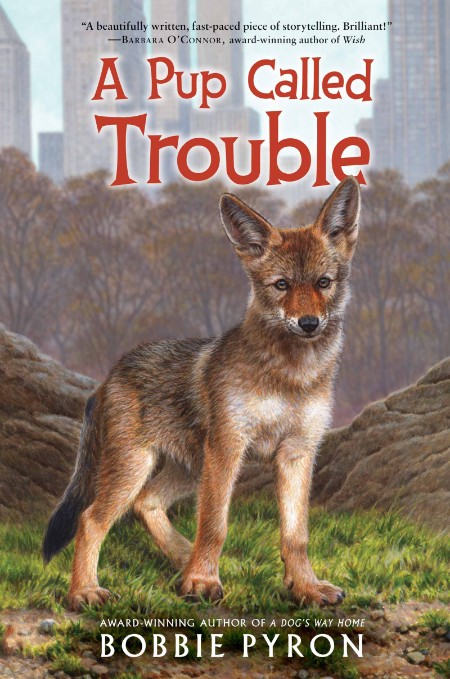 epub | 608.02 KB | English | Isbn:9780062685230 | Author: Bobbie Pyron | Year: 2018

Description
:
Fans of classic animal stories like Pax and A Dog's Way Home will howl over the heartwarming adventures of a coyote pup lost in New York City. This early middle grade novel is an excellent choice to share during homeschooling, in particular for children ages 7 to 9 who are reading independently. It's a fun way to keep your child engaged and as a supplement for activity books for children.
Brimming with curiosity,Trouble can't wait to explore the world beyond Singing Creek. So one morning the coyote pup stows away in the back of a truck and ends up lost in the heart of New York City. While Trouble misses his siblings, he quickly makes friends in Central Park's Ramble: a prankster crow, a timid opossum, and a poetic poodle.
Before long, he goes from howling for home to wondering if he could make a life in the city forever. But when word gets out that a coyote is running wild on city streets, Trouble must choose between the risks of being caught and the dangers of a long journey home.
Inspired by true stories, this accessible read from the award-winning author of A Dog's Way Home will resonate with anyone who's ever felt torn between the longing for adventure and the call of home. An appendix with real accounts of wild animals trapped in the city adds to the fun!

We need your support!
Make a donation to help us stay online
        


Bitcoin (BTC)


bc1q08g9d22cxkawsjlf8etuek2pc9n2a3hs4cdrld
	


Bitcoin Cash (BCH)


qqvwexzhvgauxq2apgc4j0ewvcak6hh6lsnzmvtkem



Ethereum (ETH)


0xb55513D2c91A6e3c497621644ec99e206CDaf239



Litecoin (LTC)


ltc1qt6g2trfv9tjs4qj68sqc4uf0ukvc9jpnsyt59u



USDT (ERC20)


0xb55513D2c91A6e3c497621644ec99e206CDaf239



USDT (TRC20)


TYdPNrz7v1P9riWBWZ317oBgJueheGjATm


Related news:
Information

Users of GUESTS are not allowed to comment this publication.