Acon Digital Acoustica Premium 7.4.1 (Win x64)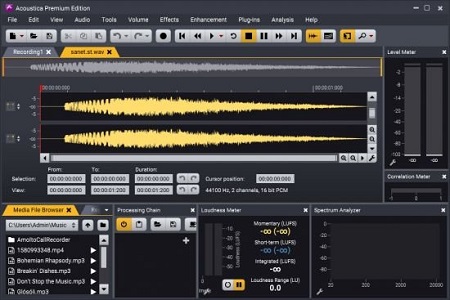 Acon Digital Acoustica Premium 7.4.1 (Win x64)
File size: 286 MB
Acon Digital Media Acoustica Premium is an ideal solution for audio editing and mastering. The program contains everything you need to create great sounding recordings and audio CDs, including professional tools for recording, analysis, editing and CD burning. The Acoustica user interface was designed with speed, accuracy and ease of use in mind. The support for audio resolutions up to 32 bit and sampling rates up to 192 kHz allows you to record and edit in an amazing audio quality.
Acoustica is available in three editions – the free Basic Edition, the Standard Edition and the Premium Edition which supports 5.1 and 7.1 channel surround and includes extended processing tools and the same audio restoration algorithms as found in our Restoration Suite.
Ultimate Audio Quality
Acoustica offers support for state-of-the-art audio resolutions up to 32 bit and sampling rates up to 384 kHz, ensuring that all of your work comes across at the highest quality. Acoustica Premium Edition even supports multichannel audio recording and editing such as 5.1 and 7.1 surround sound.
Audio Restoration
Integrated audio restoration tools help you get the most out of recordings impaired by background noise, clicks, crackle, clipping or missing high frequency content. The Premium Edition contains the same set of professional tools as our Restoration Suite.
Multitrack Editing
New in Acoustica is the ability to edit multitrack audio. Both the Standard and the Premium Edition allows you to mix audio from different tracks in real-time, add audio effects to tracks or easily create cross-fades. You can even loop or time stretch clips directly from the multitrack timeline.
Processing Tools
High quality audio tools and effects are integrated such as dynamic processing, limiter, equalizing, reverb, convolution reverb, chorus and flanger. You can also modify tempo and key of your recordings independently using the superb quality time stretching and transpose tools.
Effect Chains and Plug-In Support
You can create complete chains of processing tools, including external plug-ins, and save them along with all the parameter settings for later use. VST and DirectX plug-in support allows you to access a vast number of both free and commercial third party audio processing plug-ins directly from Acoustica.
Analysis Tools
Powerful offline analysis tools are available, including spectrum, spectrogram and wavelet analysis. Real-time analyzers such as K-System level meters, phase correlation meters and spectrum analyzers allow you to monitor your audio output visually in real time during playback.
Link Download

Download Via UploadGig

https://uploadgig.com/file/download/92ad18d23faFdc2E/AconDigitalAcousticaPremium741Winx64.part1.rar
https://uploadgig.com/file/download/BB2adEBbce493240/AconDigitalAcousticaPremium741Winx64.part2.rar

Download Via Rapidgator

https://rapidgator.net/folder/6612547/AconDigitalAcousticaPremium741.html

Extract files with WinRar 5 or Latest !

We need your support!
Make a donation to help us stay online
        


Bitcoin (BTC)


bc1q08g9d22cxkawsjlf8etuek2pc9n2a3hs4cdrld
	


Bitcoin Cash (BCH)


qqvwexzhvgauxq2apgc4j0ewvcak6hh6lsnzmvtkem



Ethereum (ETH)


0xb55513D2c91A6e3c497621644ec99e206CDaf239



Litecoin (LTC)


ltc1qt6g2trfv9tjs4qj68sqc4uf0ukvc9jpnsyt59u



USDT (ERC20)


0xb55513D2c91A6e3c497621644ec99e206CDaf239



USDT (TRC20)


TYdPNrz7v1P9riWBWZ317oBgJueheGjATm


Related news:
Information

Users of GUESTS are not allowed to comment this publication.