Tekla Structural Designer 2019 19.0.0.104 (Win x64)
Tekla Structural Designer 2019 19.0.0.104 (Win x64)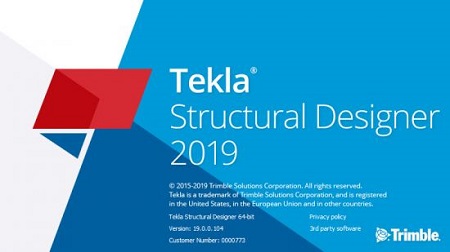 Tekla Structural Designer 2019 19.0.0.104 (Win x64)
File size: 258 MB
Tekla Structural Designer is revolutionary software that gives engineers the power to analyze and design buildings efficiently and profitably. Fully automated and packed with many unique features for optimized concrete and steel design, Tekla Structural Designer helps engineering businesses to win more work and maximize profits. From the quick comparison of alternative design schemes through to cost-effective change management and seamless BIM collaboration, Tekla Structural Designer can transform your business.
One product, one interface, one model
From scheme design all the way through to detailed design, one single model will cover all your structural analysis and design requirements, encompassing both gravity and lateral systems. With Tekla Structural Designer there are no additional modules to buy and you will not waste time switching between multiple software packages to achieve your final design solution.
A revolutionary approach
Unlike traditional analysis software, with Tekla Structural Designer you can create physical, information-rich models that contain all the intelligence needed to fully automate the design and manage project changes. Achieve faster design times and maximize profitability.
Seamless BIM integration
Because you are creating a single model with a single data set, BIM integration is smooth and effective. Collaborate seamlessly, instantly assess the impact of changes and deliver a more optimized solution to your client.
Automated wind loading
We understand how painful it can be to apply loading so we have made it easier for you. Full building wind loads are automatically calculated and applied to your model, saving your time on this long winded and complex task. And there is no need to worry about all the other lateral loading required by the design code because Tekla Structural Designer takes care of these for you.
Unique analysis
Tekla Structural Designer automatically generates an underlying and highly sophisticated analytical model from the physical model, allowing you to concentrate on the design. Regardless of the model's size or complexity, the software's powerful analytical engine and many unique features will save you time by accurately predicting the building's design forces and overall performance.
Finite Elements
The software incorporates a highly powerful Finite Element (FE) engine. Whether you are considering an irregular concrete flat plate with openings, or a complex core wall system, you can take advantage of fully automated FE meshing tools and lightning fast analysis to explore their behavior.
Total transparency
Reviewing analysis data is very important. Despite being fully automated, Tekla Structural Designer offers completely transparent analysis results so you can investigate the design forces, explore deflections and view all the calculations, giving you complete confidence in the design results.
Key benefits
Achieve faster design times
Establish the best solution quickly
Manage changes easily
Maximize profitability and efficiency
Supports Eurocodes, US, Indian and Australian codes and British Standards
Link Download

Download Via UploadGig

https://uploadgig.com/file/download/4c9E470C6e4d12ca/TeklaStructuralDesigner20191900104Winx64.part1.rar
https://uploadgig.com/file/download/74bc46D0aaE7f9B6/TeklaStructuralDesigner20191900104Winx64.part2.rar
https://uploadgig.com/file/download/e92A97d681f3a6f5/TeklaStructuralDesigner20191900104Winx64.part3.rar

Download Via Rapidgator

https://rapidgator.net/folder/6404263/TeklaStructuralDesigner20191900104.html

Extract files with WinRar 5 or Latest !

We need your support!
Make a donation to help us stay online
        


Bitcoin (BTC)


bc1q08g9d22cxkawsjlf8etuek2pc9n2a3hs4cdrld
	


Bitcoin Cash (BCH)


qqvwexzhvgauxq2apgc4j0ewvcak6hh6lsnzmvtkem



Ethereum (ETH)


0xb55513D2c91A6e3c497621644ec99e206CDaf239



Litecoin (LTC)


ltc1qt6g2trfv9tjs4qj68sqc4uf0ukvc9jpnsyt59u



USDT (ERC20)


0xb55513D2c91A6e3c497621644ec99e206CDaf239



USDT (TRC20)


TYdPNrz7v1P9riWBWZ317oBgJueheGjATm


Related news:
Information

Users of GUESTS are not allowed to comment this publication.