Joomla Template YouJoomla You Tutorials
Download Joomla Template YouJoomla You Tutorials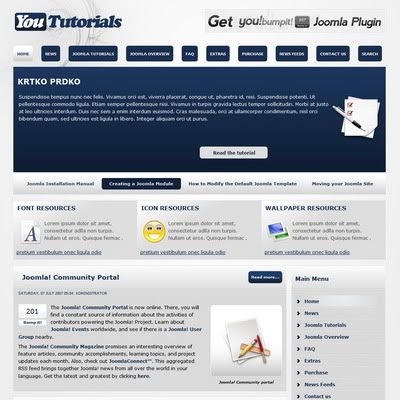 Joomla Template YouJoomla You Tutorials - Joomla Personal Blogger | 22 MB
Enhanced with new Mootools sliding tabs , 3 amazing color styles, 19 module positions and more.
We adopted new and advanced Joomla frontpage styling that takes off the standard Joomla template look and gives your more flexibility and uniqueness.
You Tutorials features:
* 100% Tableless Design
* XHTML Valid
* CSS Valid
* 508 Valid
* 19 fully collapsible module positions
* PSD files included
* Joomla 1.5 template
* Default Suckerfish dropdown menu
* SMooth Dropdown menu (using mootools)
* Dropline Joomla menu
* SMooth Dropline menu (using mootools)
* Split menu
* 3 new color styles
* Server side Compression New!
* Advanced sliding pannel
* Light weight and blazing fast
* Demo Starter Joomla 1.5.10
* Extended Typography styles
* IE6 png fix
* Adjustable width 1024px 800px
* Font resizing
* SEO features build in
Demo:
http://joomla1.5.youjoomla.info/yoututorials/
Download Joomla Template YouJoomla You Tutorials
Download from Uploading.com
Download from Letitbit.net
MiRRoR 2
Related news:
Information

Members of GUESTS cannot leave comments.